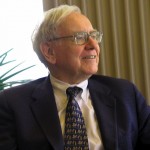 Buffett Buying Out ACI's Largest Holding
Precision Castparts announced this morning that it has agreed to be acquired by Warren Buffett's Berkshire Hathaway for $235 a share, subject to shareholder approval. ACI views this as a validation of the research process for ACI's Durable Opportunities Portfolio.
Precision Castparts is the largest holding in the Durable Opportunities Portfolio. ACI began buying Precision Castparts in September 2014 and three additional add-on buys were made prior to June 2015. Each ACI buy was below the Berkshire offer price.
Mr. Buffet's planned acquisition validates the ACI research process for Durable Opportunities and ACI's view of Precision Castparts as a strong company with superior management and predictable growth prospects that will last for decades, providing investors with desirable long term rates of return.
ACI's Durable Opportunities Portfolio focuses on buying companies that are going to be around for decades, at or below fair value, which feature ever growing equity for shareholders and target expected returns in the low double digit range – reasonable risk for reasonable return.
Please share using the buttons below.
Warm Regards,
Dak Hartsock
Chief Market Strategist
ACI Wealth Advisors, LLC
Process Portfolios