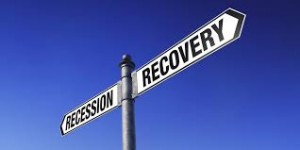 US Economy Plugging Along–Recession Probability Indicator Update March 2015
The Recession Probability Indicator ("RPI") is proprietary tool for measuring the strength of the American economy. When the RPI signals increasing odds of recession, the investment environment for stocks usually becomes unfavorable, which basically means stocks go down more than up during such periods. Sometimes way down.
The RPI is derived from data provided by the Federal Reserve–things such as CPI, GDP, productivity, employment, income, manufacturing activity, etc..
The RPI scores the investment environment from 3 to 75. A score of 20 or above signals a rising likelihood of recession (bad for stocks). A move back below 20 signals a rising likelihood of favorable investment conditions (good for stocks). Most of the time it putters along between 3 and 17.
The December 2014 reading for the RPI (the most current) is 12. There is generally about a 2 month lag in the reading. Update coming soon.
To learn more about the RPI, visit the Recession Probability Indicator page or sign up for the RPI Updates. You'll receive a history of the RPI and a short guide to building recession resistant portfolios.