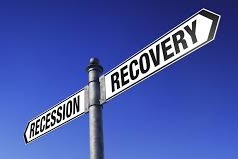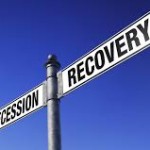 Ripped From the Headlines: "Will a Fed Rate Raise Put the U.S. In Recession?" Once again, media pundits are all atwitter about the idea the Fed will raise rates either this month or next, putting the U.S. into Recession.
As before, this is less about the actual impact to the economy and more about attracting eyeballs to either sell advertising or convince investors they have to do something and do it NOW, which generally rewards Wall Street.
While the risks have risen since the last Recession Probability Indicator update, they are still within the "Stable Investing Climate" range. Historically, investors have been best served by making few, if any, changes to their portfolios when the investing climate registers a "stable" reading on the RPI.
The Recession Probability Indicator ("RPI") scored a 17 at the most recent reading, meaning the economic environment for investment is stable and below the "reduce risk" warning level of 20. That is subject to change but as with all things that have to do with investing, it's better to take direction from facts and not fears.
Most of the time the RPI moves between 3 and 17.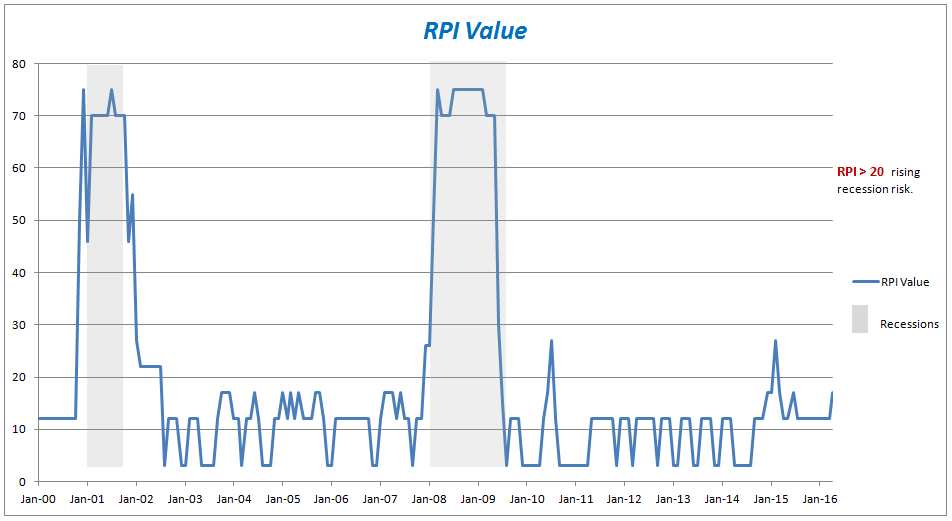 The market can move around a lot even with a stable reading. Despite that, history vastly favors those who stay invested as long as there is no recession imminent.
If you'd like to review a more in depth examination of why it's important to stay invested absent recession signals, click to visit the Recession Probability Indicator page and scroll down to see what happens if you stay invested except for recessions. CLICK HERE
If you'd like to understand why it's important to try to reduce risk ahead of recessions CLICK HERE.
A quick note on my expectation for what the Fed will or will not do regarding rates and when. Regular readers know that, so far, I've been reasonably accurate in gauging Fed decisions. Famous last words, right? I did say "so far."
My outlook at the moment is that the Fed will hold off in June but is likely to raise in July if things are as they are right now.
My opinion is that if the Fed raises in June, it means they have assurances that the British will not exit from the European Union. Conversely, if they do not raise in June that suggests they are holding fire because they don't know what the Brits are going to do. If Britain does exit the EU I do not believe the Fed will raise until the impact of such a move becomes clear. That may mean September, that may mean later. If oil falls again in the interim, that may also put off rate hikes as the inflation numbers will mitigate slightly.
Regardless, the US economy is capable of withstanding a rate raise. However, such a raise combined with a British exit from the EU is likely to stoke fear in investors and result in yet another double digit sell off. Barring recession, such a sell off represents opportunities rather than obstacles.
As always, a link to the American Institute for Economic Research's Monthly Business Conditions for those interested. Their view is similar to mine– risks are rising, but still no clear warning of imminent recession. CLICK HERE
Please share with one friend that might benefit from this post.
To Smarter Investing,
Dak Hartsock
Chief Market Strategist
ACI Wealth Advisors, LLC.
Process Portfolios, LLC.